Loooove is in the air! Happy Valentine's Day! Okay maybe not yet buuut if you already looking for the perfect Valentine's Day gift – we got you! I mean: The way to a (wo)man's heart goes through her/his stomach! And for this we got a hamper with the perfect drinks and snacks and with them we will guarantee you – you get everyone's heart! Have you ever heard of Gunna softdrinks, Longtail mixers or Olly's pretzels and Proper Nutty's peanut butter ? This and more we got in our hampers! You want to take a look: here you go!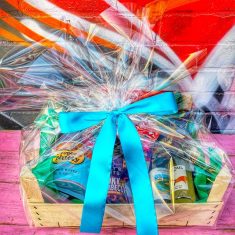 Normally we sell all the drinks on our Street Food Markets we are famous for – have you ever been there?
Urban Food Fest street food markets really do cover all different kinds of cuisines. No matter if you're a lover of Asian noodles or you're craving some original Dutch pancakes, there's nothing you won't find at our street food markets. Our Indian food stalls are always super popular too. If you fancy a warming curry or a delicious tikka chicken wrap, there's nothing you can't find at our street food markets. Wherever your "food imagination" leads you, we promise, you will find it on the London street food markets.
If you'd rather have tender steak and chips, you can be more than sure that we'll have an Argentinian food stall at our markets serving up some delicious Argentinian beef.
Once you've chosen which delicious kind of food you'll enjoy and you have the time to, you might as well completely relish it. As the variety of street food is endless, everyone will be able to find something they like, with plenty of healthier and vegetarian or vegan options too. Street food is also super easy to personalize so any ingredients you don't like, just ask to leave out! Another reason to try street food on your next trip to London is that it's very budget-friendly. As travelling around and staying in London isn't always the cheapest, this is definitely the best way to get great food without the big price tag!
Therefore Urban Food Fest supplies every street food market with beautiful vintage furniture. We like to create fun seating and chill-out zones at our street food markets not only for our guests to get some well-deserved time out but also to encourage them to engage with one another.
If you and your friends fancy playing some games you might enjoy our giant Jenga or other activities we provide our street food markets with.
If one, or more, of those dishes sound good to you, you should definitely come down to one of our street food markets. You will find us every Saturday from midday to midnight on Shoreditch High Street. If you need a little pick-me-up during the week, come to one of our many lunchtime markets all across London, check out our Instagram page for more details!
Just like all of our street food markets you can not only choose from the most amazing range of delicious international dishes but Urban Food Fest also runs a bar to provide our guests with craft beers, ciders, international wines, shots, soft drinks and exclusive Urban cocktails.
And you know what? Some of those drinks are in our hampers we mentioned before! They are a perfect gift for you're loved ones for Valentine's Day (and a perfect gift for yourself as well) and maybe you can hide there a invitation for a date on our food street markets when we open again! So you can enjoy our drinks and snacks while you waiting for us to open again and we hopefully see us there!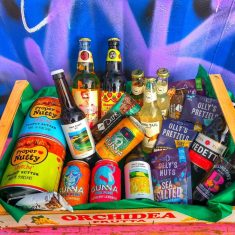 Therefore you know what is on the hamper here a mouthwatering list:
-Box of our brand new Urban Food Fest cookies & cream blondies, Oreo brownies, Lotus biscuit & caramel blondies
-2 x 1kg tin of @proper_nutty peanut butter
-1 Premium @islandschocolate bar
-1 @billingtonsuk premium maple syrup
-1 @billingtonsuk honey bottle
-1 @ollys.ollys pretzels
-1 @ollys.ollys nuts
-2 @vedettuk craft beer
-2 @binarybotanical craft beer
-3 @celticmarches cider
-2 @gunnadrinks soft drinks
-2 @longtailmixers
To order just DM or email events@urbanfoodfest.com and a little valentine will come to your front door with a beautiful hamper and lots of love!
Happy Valentine's Day !