No matter if it's one of our street food markets or your dream wedding, we aim to create an unforgettable experience for each and every client we work with. For us this special experience includes setting up the perfect space to relax and interact with one another. Urban Food Fest likes to create fun seating and chill-out zones by providing the most beautiful pieces of vintage furniture. Those vintage furniture zones create the perfect atmosphere for people to take some well-deserved time out of their busy day. We actively encourage people to engage with one another by making our market and events environments interactive. Therefore our vintage furniture areas are very popular and appreciated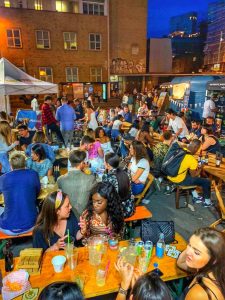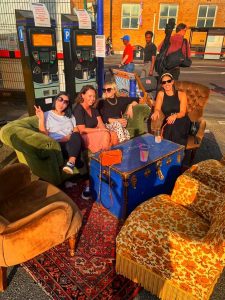 The beautiful furniture adds a vintage touch to all of our markets which makes Urban Food Fest stand out from others. You can also hire our furniture pieces for private or corporate events. No matter if you're planning your mums birthday party, your best friends wedding or even a corporate event, our vintage furniture can add a special touch to any sort of event. By adding your favourite vintage furniture items to your event, you can benefit from our beautiful collection and create an unforgettable experience for your guests.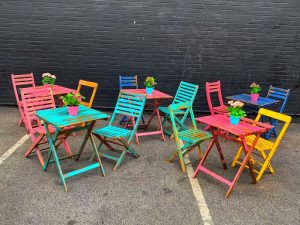 When we first started Urban Food Fest, we bought a number of vintage pieces and brought them to our street food markets. We found that those items of vintage furniture are not only very practical but also visually very exciting to the eye. Also our guests immediately loved the extra seating area and the vintage flair it brought to our markets. Over the years the few pieces we started with have turned into a whole collection of vintage furniture, that we are always working on growing. The vintage furniture is not only perfect for our markets but also any type of event like birthday parties, weddings, festivals or even photoshoots.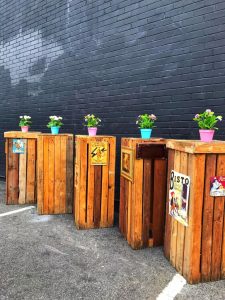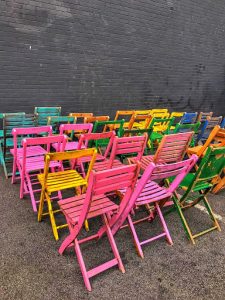 Each piece of furniture is completely unique and has been handpicked to make up the diverse range of our vintage collection. To some of the vintage pieces we even add a pop of colour to make them even more unique. Our vintage furniture collection includes beautiful vintage chairs, tables, benches and much more. Especially our cosy vintage armchairs, outstanding Ludlow chairs, antique suitcases and colourful plant pots bring a very special touch to every event. We also offer vintage side tables, display boxes, ladders as well as vintage mirrors, milk bottles and vases.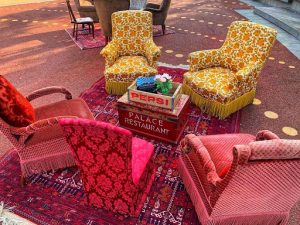 If you're looking for a bar for your event we're more than happy to help you out with that as well. You can not only hire our vintage wooden bars but also flowery cocktail bars to add an eyecatcher to your event.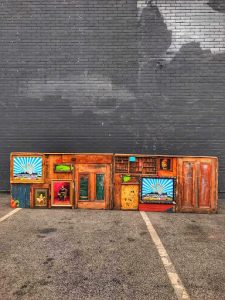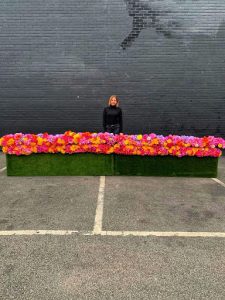 If you are interested in hiring our vintage furniture for your event, you're more than welcome to take a look at our collection. To view photos of our collection please see our gallery.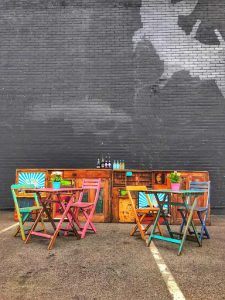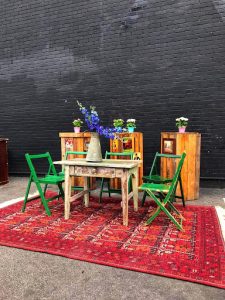 To hire our vintage furniture please email jessica@urbanfoodfest.com or call the Urban Food Fest events team on 020 7563 3021.