Hildon Water
Find the elixir of life on London's street food markets When Hildon founder Christian Heppe purchased the Hildon Estate, he soon discovered the immense purity of the water. Sourced from an underground aquifer deep below the Estate, he launched Hildon Natural Mineral Water, bringing its perfect and consistent composition to the world. We offer Hildon water at our street food markets in London because of their purity and excellent quality.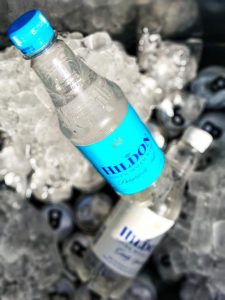 Hildon water is also perfect for any kind of business event. There is a message you sent when hiring our food trucks serving high quality water as Hildon. Combined with our vintage furniture hire this event might be the perfect mixture of an easy going yet, professional atmosphere.
PRAISED FOR A PRISTINE TASTE
PH neutrality makes for the perfect accompaniment to food and fine wines.
The exceptional quality and well-balanced taste of Hildon Natural Mineral Water is exactly what has convinced us to offer this water at our urban street food events.
Unparalleled puritt
Our stringent externally audited systems ensure the composition of Hildon Natural Mineral Water is remarkably consistent. In addition to being certified by the ISO (International Organisation for Standardisation) for both our quality and environmental management processes, we can attest our bottles' calcium, nitrate and mineral content to the milligram.
THE ELIXIR OF LIFE Our bodies are made of up to 60-70% water, which is why we're so meticulous.
Urban street food appreciates Hildon Limited because they are fiercely protective of their award-winning composition. They recognise the pivotal role that water plays in allowing our bodies to function properly. To reap physical and cognitive rewards, experts recommend drinking one and a half litres of water per day. With bottled water, keeping track of your progress is blissfully easy. If you're already inspired for your upcoming business event that invites people to be at ease and make connections on a street food festival, do not hesitate to hire our street food trucks and vintage furniture.