Aloha 65
Drinking Aloha 65 at our street food markets in London is like nothing else. It doesn't fit neatly into boxes marked "gin" or "vodka". Which is why it perfectly fits into our street food markets. It's a spirit drink infused with fresh pineapple, lemon, ginger, scotch-bonnet chillies and carefully selected herbs and spices. You should come and sit at our vintage furniture and take a sip of this drink which can be a delicious shot, a refreshing long-drink, or a unique heart of a great cocktail, Aloha 65 is all-natural, vegan, and lower in alcohol than many of the usual suspects Enjoy a day out at one of our Urban street food markets and taste one of the cocktail inspirations. Just chill and share!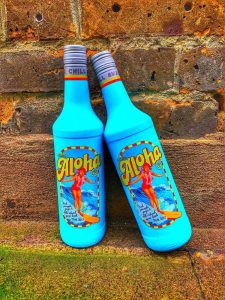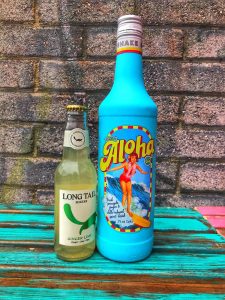 If you're craving some sunshine this winter, then look no further than Spirit of Aloha 65, the Sunshine Spirit, ski label edition. Refreshing, reviving and warming, all at the same time and fantastic neat, mixed or in cocktails. All that is what you can find at our street food markets in London
With its sweet and warming botanicals of pineapple, ginger and chilli at its heart, Spirit of Aloha 65 is the perfect autumn or winter tipple and hits the spot on a cosy evening in front of the fire served just on its own over ice, or instead of a gin and tonic as a long drink mixed with ginger ale.
Riding the waves is a thrill.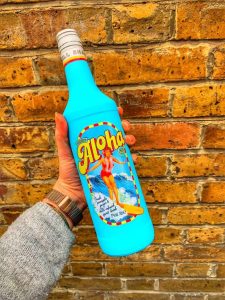 But it's even better shared with your mates. Take that feeling to the vintage bar at one of our vintage furniture seats afterwards and you've got a great time extended.
British expat Stephen Thorp's U.S. surf bar was the place to be. Vibrant, eclectic, full of character. And famous for his hand-made signature sundowners, which Stephen would make and give away as a thank you to his loyal customers. He experimented with various fruit infusions, naming them after local surfers. One in particular proved popular – a carefully balanced blend made from the tropical fruits on his doorstep – with a kick of spice. It was such a winner Stephen decided to bottle it. It took him 65 recipes to perfect,
but here it is. The fruits of his shoreline get-togethers and his pursuit of perfection. So that explains the 65. But Aloha? Why?
"Aloha" isn't just a friendly greeting.
In Hawaii it's a way of living and looking at life. We bring that feeling to London at our street food markets. Where you can get a shot at one of our street food trucks. We weave it into everything we do by living each moment to the full, welcoming others into our vintage furniture zones. To us, Aloha is a generosity of spirit that we should all seek. That's why we pledge to 'Live Aloha' and best way to do it is to have a drink at one of our Urban street food markets in London.