Malt Coast -be bold at our street food markets
Who is Malt Coast?
Bracing seas, open skies and wild empty beaches. Pine forests, salt-steeped air and shimmering fields. Two brothers brewing a true expression of life on the coast.
We are offering Malt Coast beer at our street food markets across London to represent a variety of beers in our sortiment. Malt coast gets their malt from BRANTHILL FARM.
Barley is the heart and soul of beer and the Maris Otter variety has long been viewed as superior to others. We grow and crush ours on our award winning farm on the North Norfolk Coast. This variety is the reason why we from Urban street food decided to partner up with Malt coast and offer them at our street food trucks.
The beer PALE ALE brings a taste to our street food markets which is different. The clean, crisp Maris Otter malt combines with shore-facing pine and refreshing citrus hop flavours. Truly, a beer for the best of times. What better place to have the best of time than on our street food markets sittin on our vintage furniture and enjoying yourself?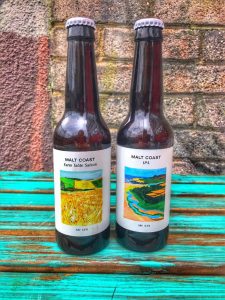 The beer AMBER ALE enriches our hire food trucks with its smooth flavour. Roasted malt meets fresh hop. Smooth, well balanced and easy drinking. A beer in harmony. We call it the perfect sundowner for our food markets.
The beer IPA surprises with its bold taste. The American style-IPA is made using our prized Maris Otter malt with Pacific Coast and Slovenian hops to create a bold, deeply satisfying beer. Bold is what you can be at our street food markets as well. Be bold and try out everything you have never heard of before because this is what urban street food in London is there for.